J Wave Syndrome
J wave abnormalities + Clinical Manifestations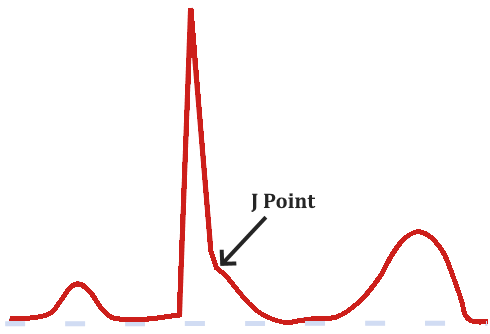 TWO PRINCIPLE FORMS OF J-WAVE SYNDROME ARE: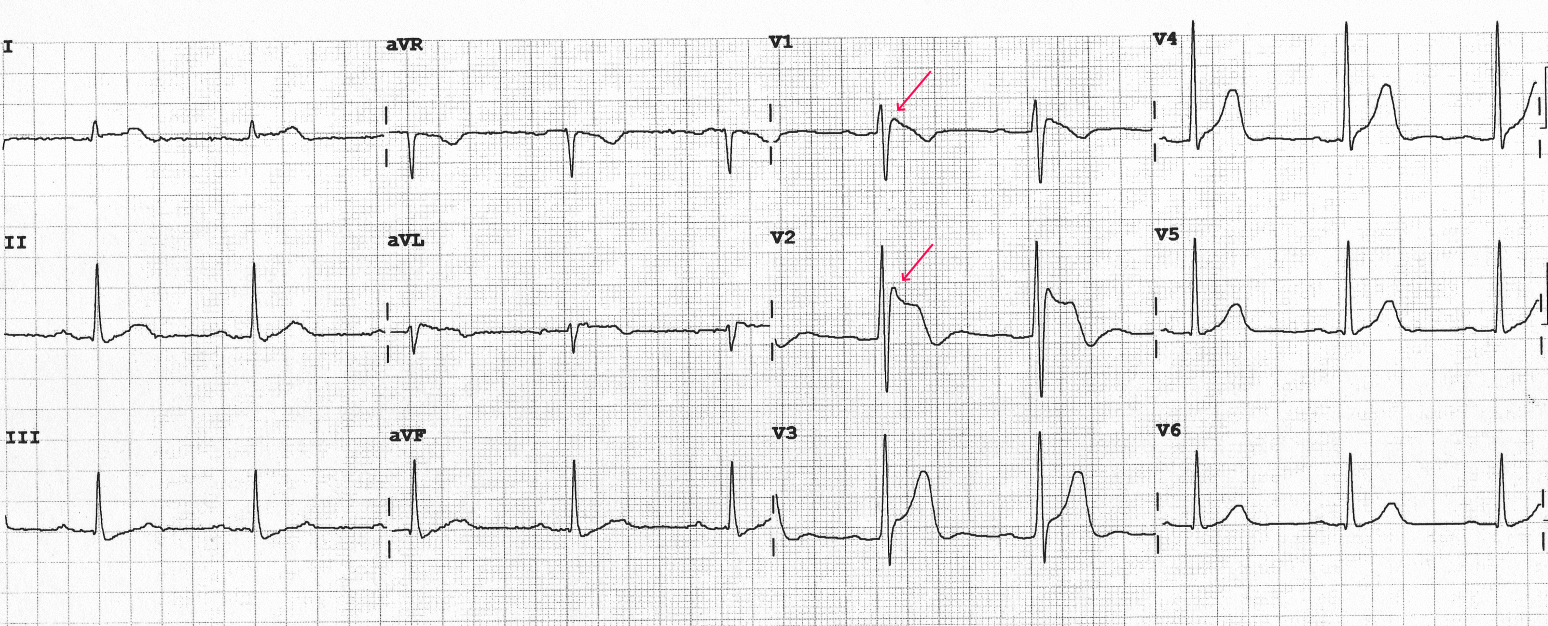 BRUGADA
Right ventricular variant of J wave syndrome.
The region most affected by the disease is the anterior right ventricular outflow tract(RVOT). The patients display J- point and ST-segment elevation in the right precordial leads.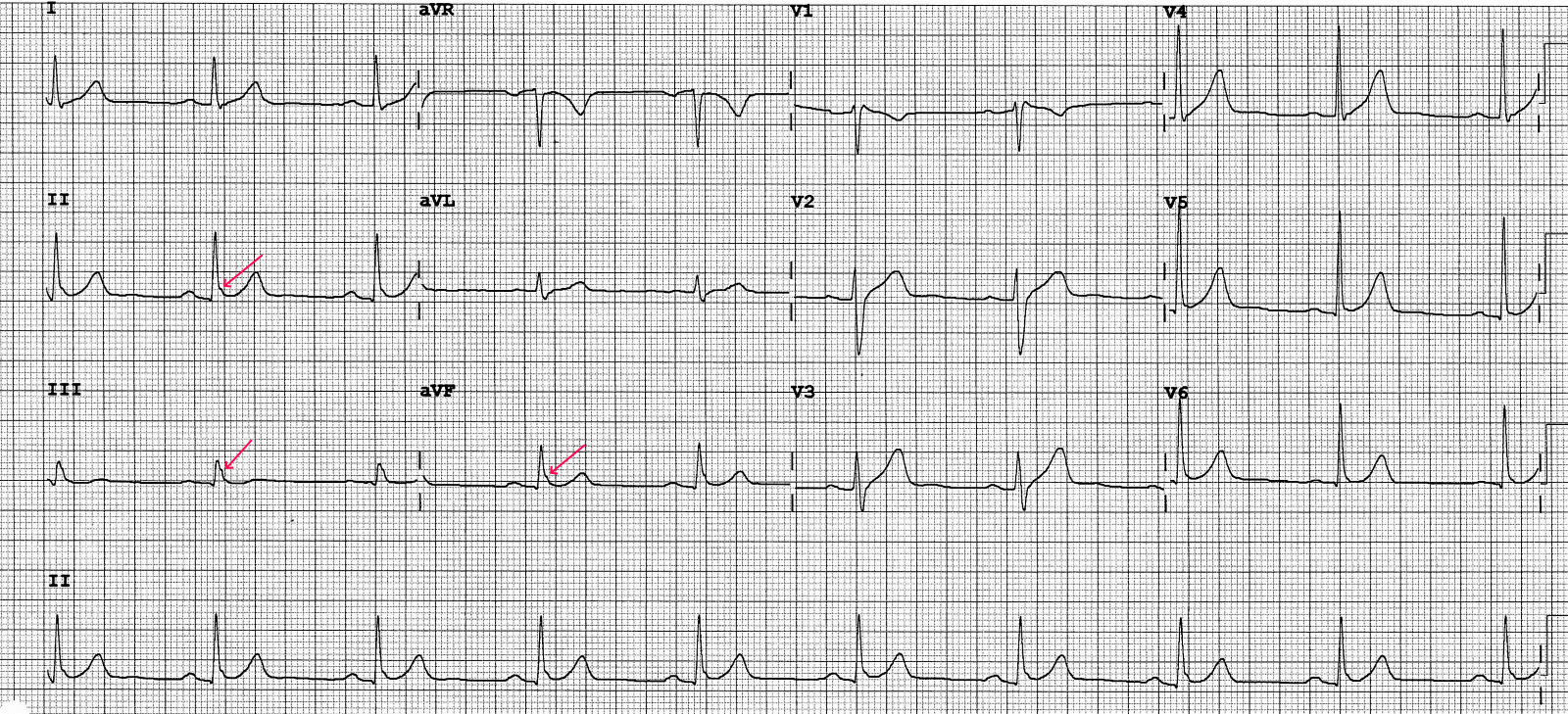 EARLY REPOLARIZATION
Distinct J-wave or J-point elevation, notch, or slur of the terminal part of the QRS, and ST-segment elevation in the lateral (type I), infero-lateral (type II), or infero-lateral plus anterior or right ventricular leads (type III).
The MECHANISMS of J-wave Syndrome have long been a matter of debate.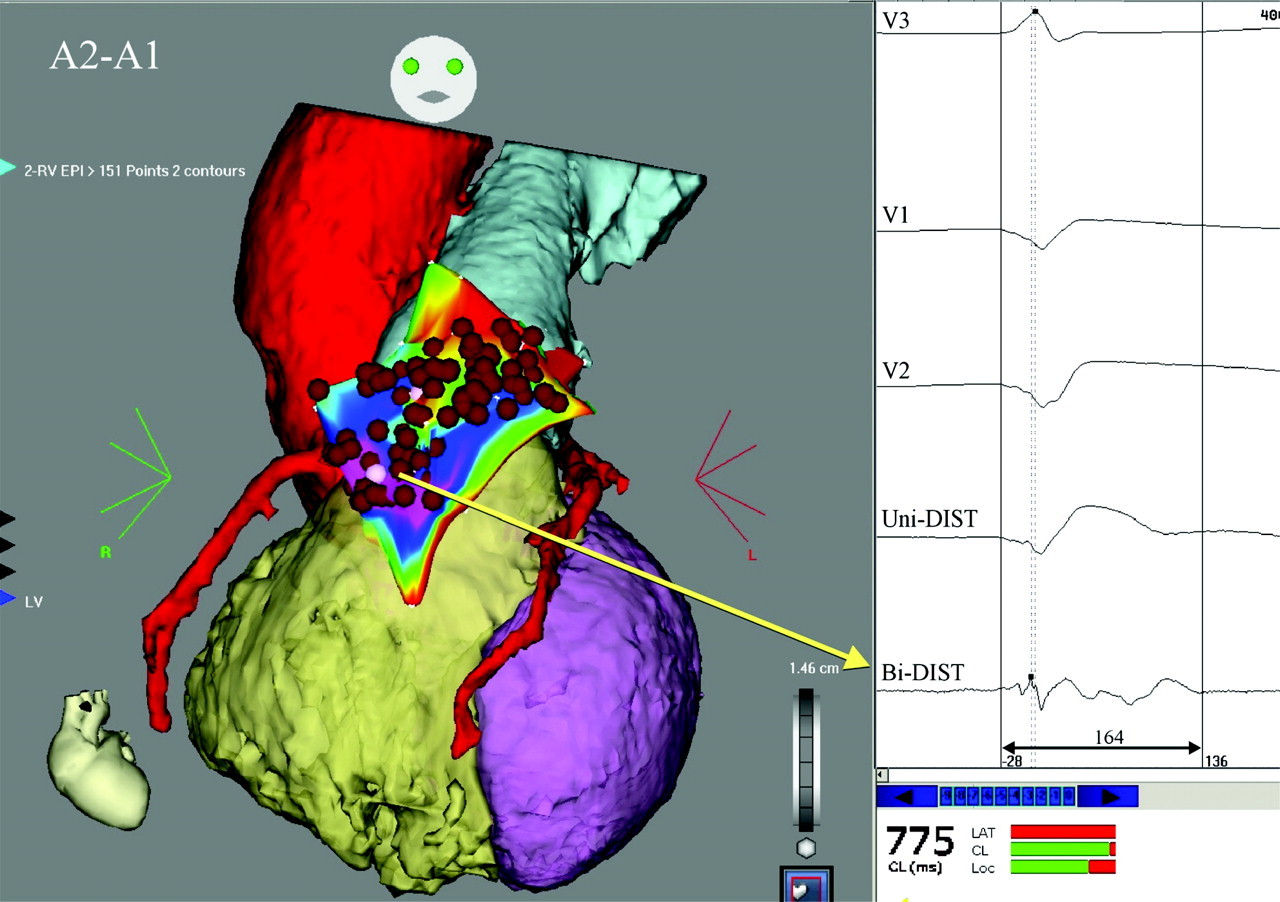 PREVALENCE & ARRHYTHMIC RISK ASSOCIATED WITH j-WAVE
2016 J-Wave Syndrome Expert Consensus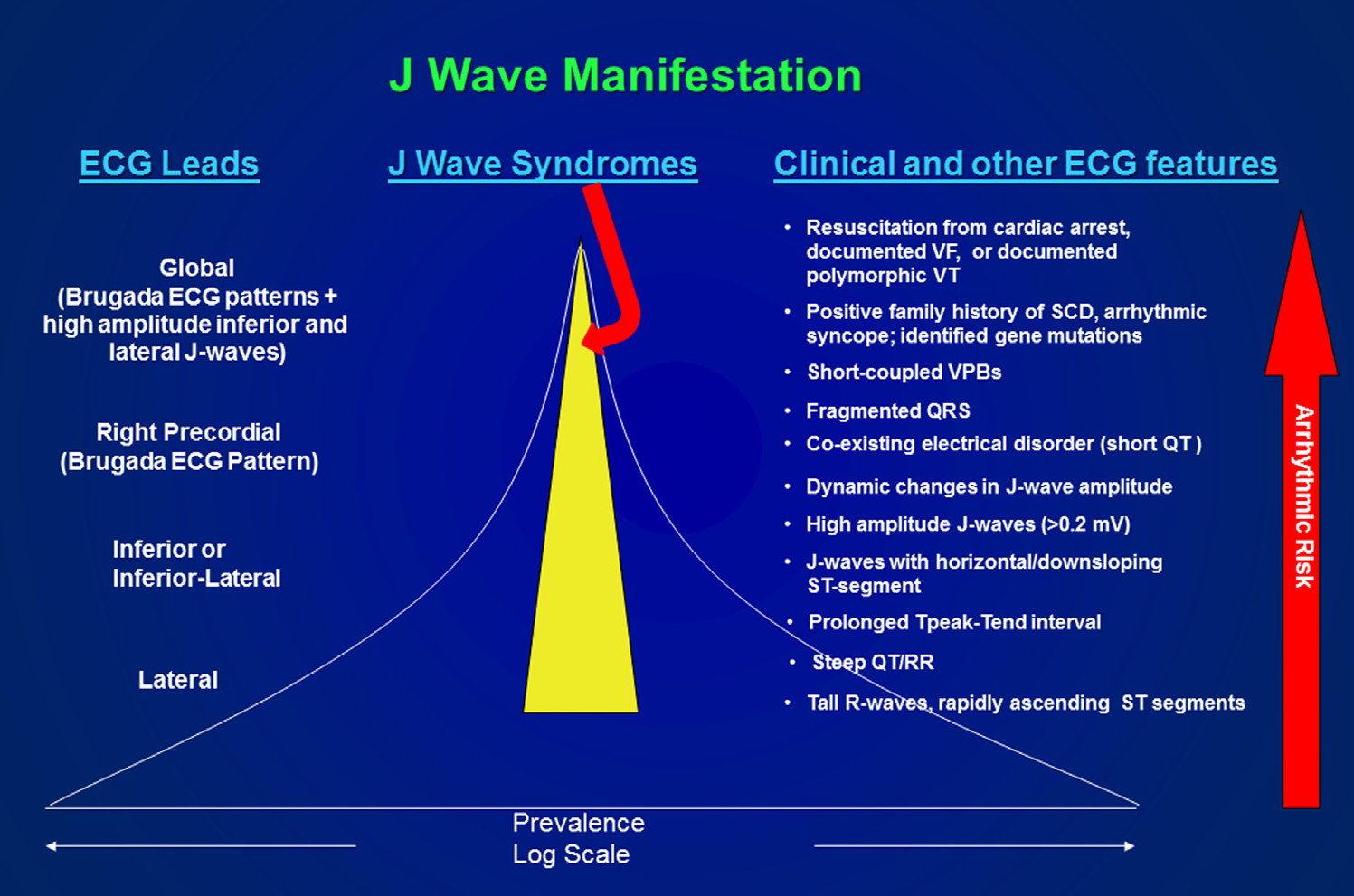 RISK STRATIFICATION
BRUGADA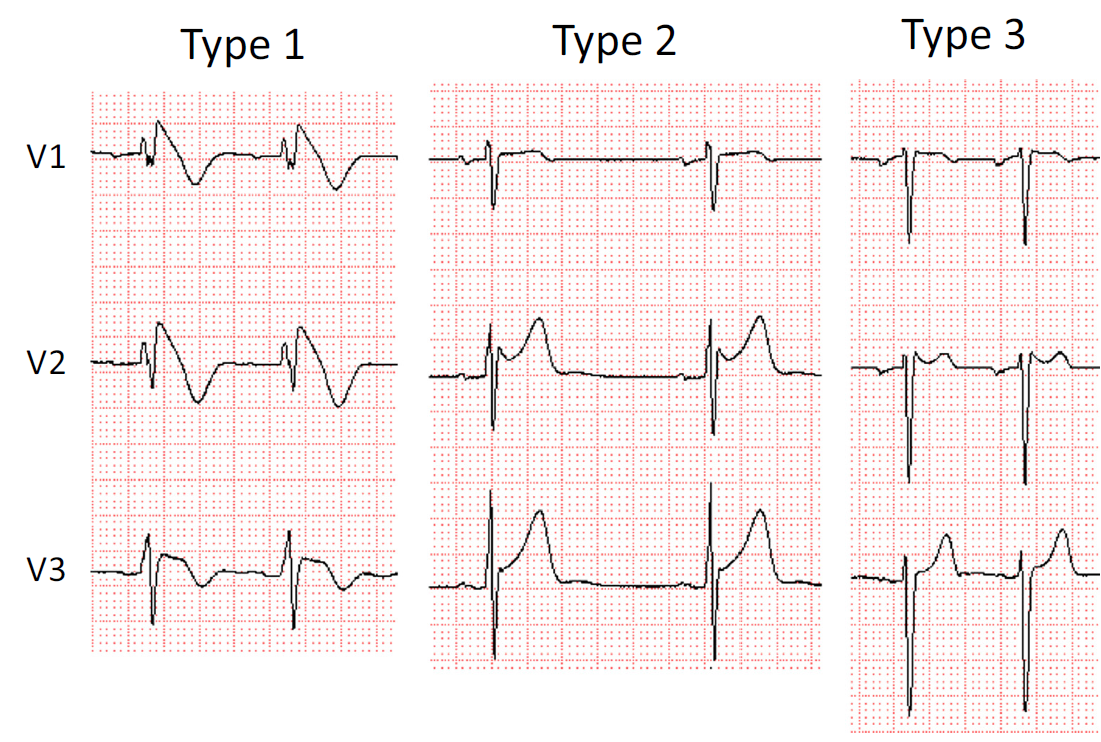 Only
TYPE 1
ST elevation is diagnostic for BRUGADA SYNDROME
characterized by ST-segment elevation ≥2 mm (0.2mV) in ≥1 right precordial leads (V1–V3) positioned in the 4th, 3rd, or 2nd intercostal space.
Risk of recurrent VF is high in those with history of aborted sudden cardiac arrest.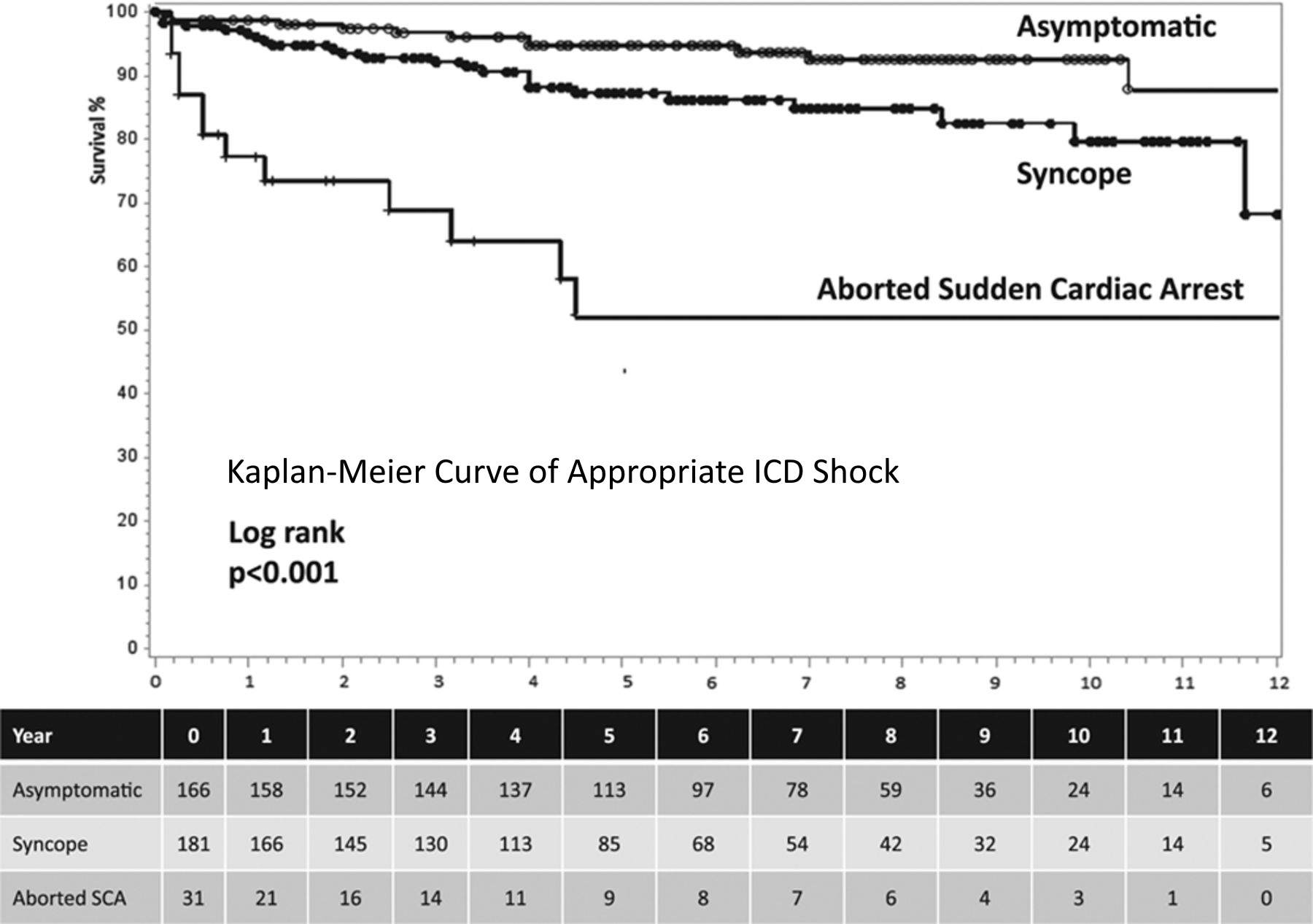 Risk of recurrent VF after SCA is 25% at 1 year and 48% at 5 years.
Risk of recurrent VF after syncope is approximately 3 times higher than the risk of asymptomatic group.
NEGATIVE EP STUDY is NOT sufficient to identify low-risk individuals.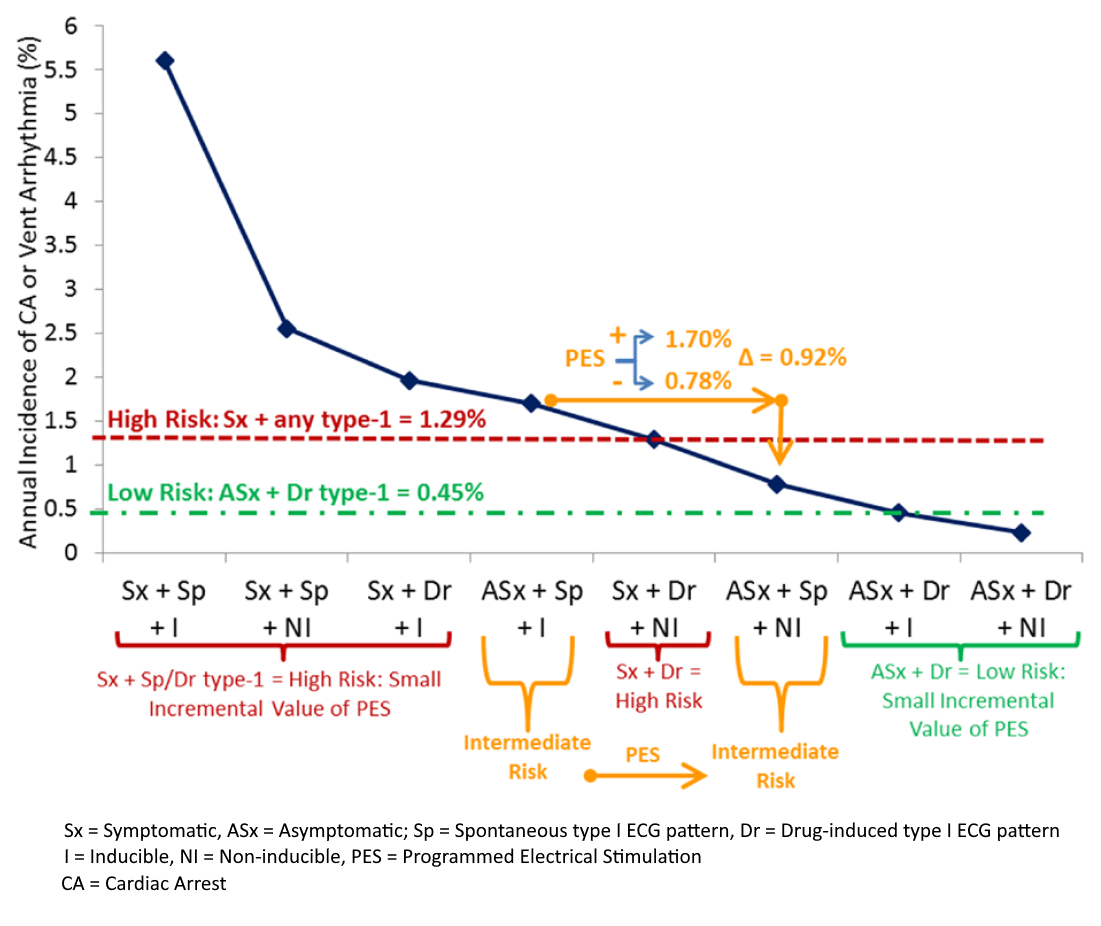 In individuals with high or low risk clinical features, EP study provided limited incremental prognostic value.

In intermediate risk group, inducible EP study would increase risk of malignant arrhythmia to 1.7%/year and an ICD would be recommended.
If, however, the patient is non-inducible, the risk would be lower, 0.78%, but not sufficiently low enough.
APPROCH TO BRUGADA SYNDROME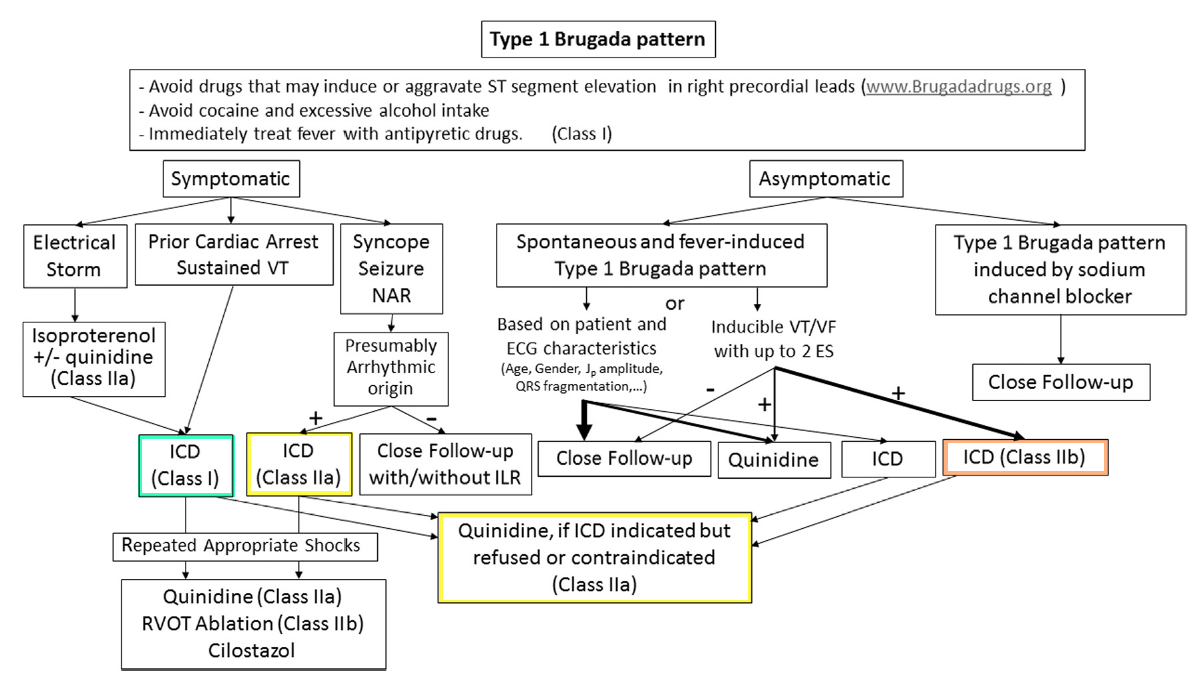 RISK STRATIFICATION
EARLY REPOLARIZATION
J-point elevation with UPSLOPING ST-segment is BENIGN.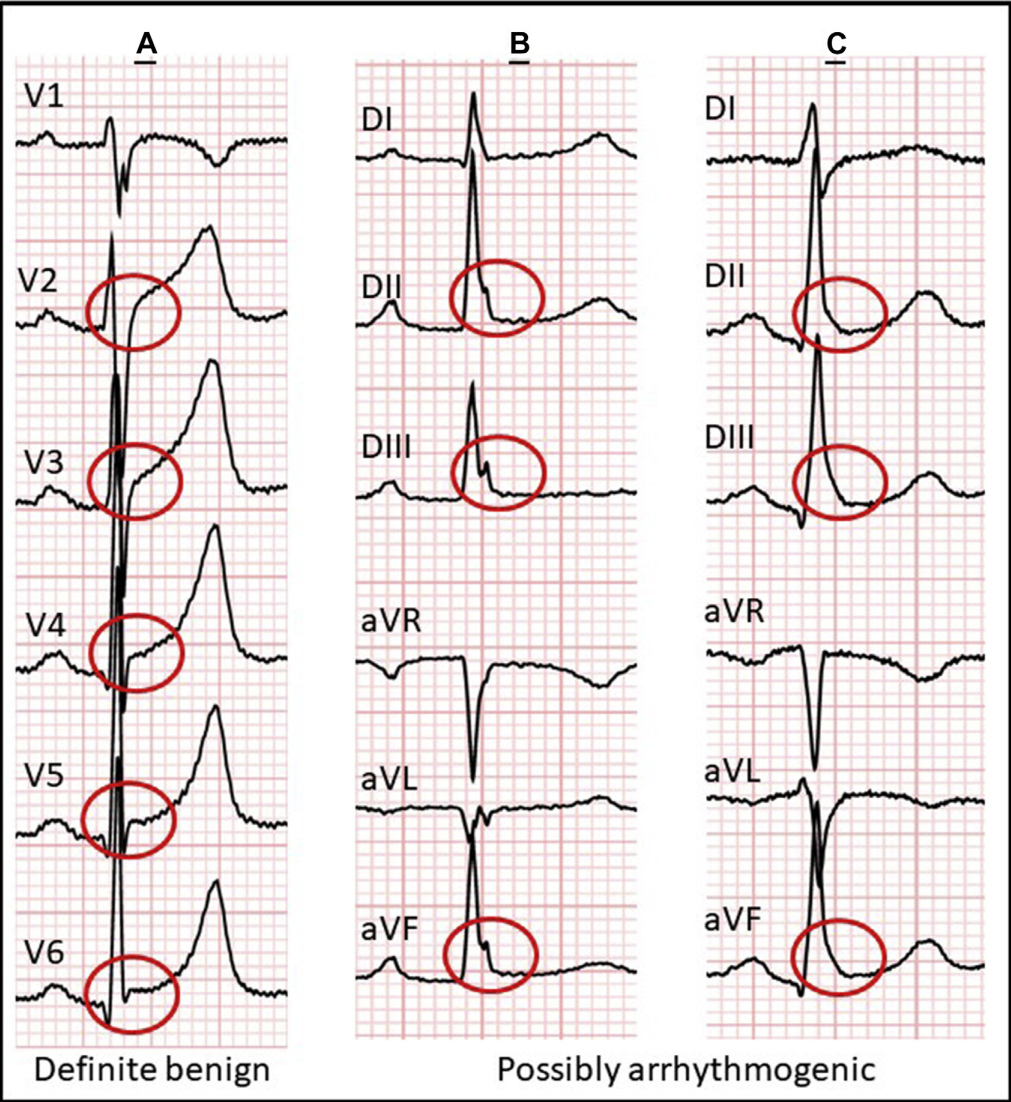 Early Repolarization Pattern that is potentially arrhythmogenic was defined in the presence of
1. an end-QRS notch or slur on the downslope of a prominent R wave. The notch/slur should be entirely above the baseline.
2. A peak of the J wave (notched or slurred) ≥0.1 mV in 2 or more contiguous leads of the 12-lead ECG, excluding leads V1 to V3 (to avoid confusion with Brugada Syndrome diagnosis).
3. QRS duration <120 milliseconds.
APPROCH TO EARLY REPOLARIZATION SYNDROME
CATHETER ABLATION continued to evolve as both definitive and palliative treatment for J-wave syndrome.
Late depolarization fragmented EGM due to microstructural myocardial alterations is the target for catheter ablation.
Resolution of Brugada pattern after catheter ablation.
↑ to the top of the page HeartRhythmBox.com
HeartRhythmBox is an education page on Heart Rhythm Topics.